[Knoxville, TN] October 2022: NellOne Therapeutics Inc. (NellOne) Chief Science Officer, Dr. Cymbeline (Bem) Culiat, to receive the prestigious "Most Influential Filipina Woman in the World" award from the Foundation for Filipina Women's Network.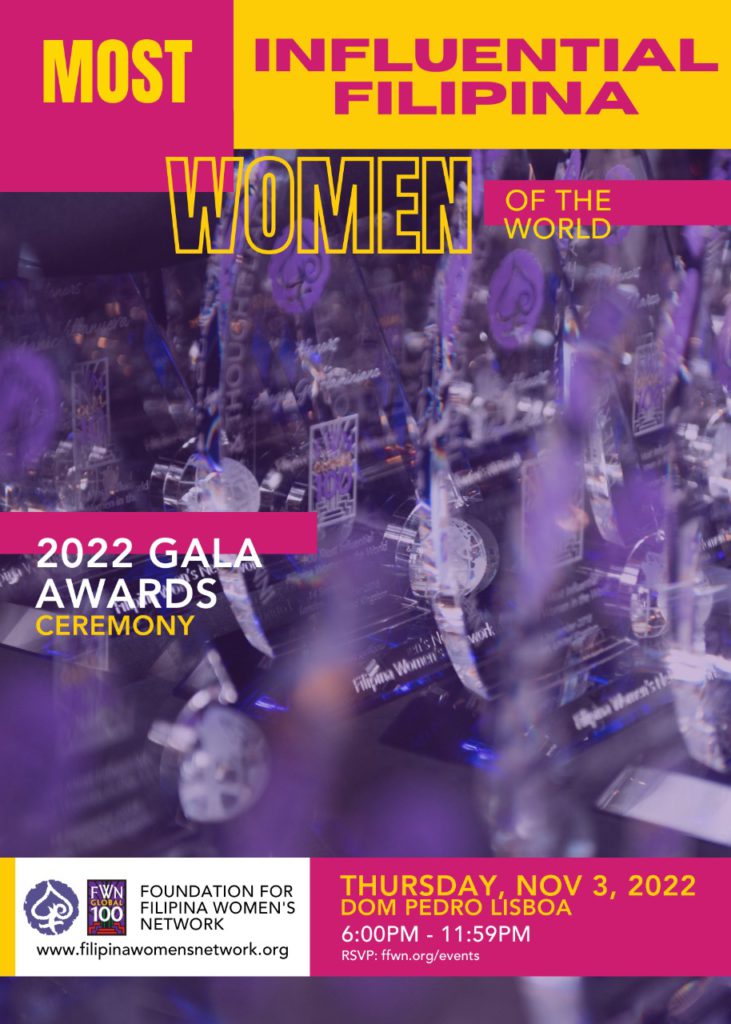 The Foundation for Filipina Women's Network recognizes women of Philippine ancestry who are changing the face of leadership in the global workplace. They have reached outstanding work in their respective fields and are acknowledged for their contributions to society, femtorship, and legacy. Culiat was selected from an outstanding field of nominees from 10 countries this year.
Born and raised in Cagayan de Oro City, Misamis Oriental, Dr. Culiat is a scientist, entrepreneur, educator, philanthropist, and author. She discovered the role of the NELL1 pathway in tissue formation and maturation as a molecular geneticist at Oak Ridge National Laboratory (ORNL; 1999-2009), a leading global research institution. She co-founded NellOne Therapeutics Inc., a biotechnology company developing NELL1-based tissue regeneration products (NellOne; 2007), applying her 27 inventions/patents in 8 countries. Bem graduated B.S. Cell Biology (cum laude; 1981), M.S. Genetics (1988) and taught Biology (1981- 1991) at the University of the Philippines. She completed a Ph.D. in Biomedical Sciences, University of Tennessee, Knoxville (UTK; 1994), and postdoctoral work as ORNL Alexander Hollaender Distinguished Fellow. Bem is a dedicated teacher and trained young scientists at ORNL and UTK, earning the Department of Energy Office of Science outstanding mentor award. She is often a guest speaker in companies and universities, STEM programs in schools and nonprofit organizations. Recently, Bem co-authored Designed To Heal: What the Body Shows us about Healing Wounds, Repairing Relationships and Restoring Community (Mclaurin and Culiat 2021; Tyndale). Bem's numerous awards include YWCA Woman of Distinction in Health, Science and Technology, ORNL Biosciences Individual Achievement, PSHS Outstanding Alumna, DOST Outstanding Filipina Scientist, and UPLB-CAS Outstanding Alumna.
The Most Influential Filipina Woman in the World award (popularly known as Global FWN100™) was launched in the United States in 2006 and expanded its search globally in 2013. "The Global FWN100™ awardees are innovators and thought leaders, dynamic entrepreneurs, rising stars, practitioners, and public service advocates, who have moved through the ranks in the public and private sectors. They are magnificent women doing extraordinary work trailblazing for the next generation leaders," said Marily Mondejar, Founder and CEO of the Foundation for Filipina Women's Network.
Culiat is an honoree for the Founder & Pioneer award category. This award honors Filipina women as the chief executive, president, executive director, or founder of a company, community organization, non-profit, or business venture that they helped start, build or significantly grow. This award category is for the trailblazers who have marshaled resources and applied innovative practices, processes, and/or technologies in a new and groundbreaking way to address a significant business or organizational opportunity. She will be recognized along with other honorees at a gala award celebratory dinner and ceremony held during the 18th Filipina Global Leadership Summit to be held in Lisbon, Portugal from October 30th through November 3th.
"Bem exhibits copious levels of ethical, inspirational, and motivational virtues," says NellOne CEO, Bill Malkes. "Her commitment to her community and the underserved is inspiring and makes people around her care. Young women have an ideal role model in Bem as they see professional achievement transcended only by well-rounded, active compassion."
"Each nominee goes through a rigorous multi-stage vetting process by the Global FWN100™ Awards Selection Committee composed of global awardees," explained Maria Fides Balita, CPA, a selection committee member. The awardees are selected based on the size and scope of their influence in their industries, communities, board affiliations, and other leadership roles."
"Dr. Bem Culiat is now a valued partner helping FWN increase the Filipina community's pipeline of qualified leaders. Her involvement will increase the odds that some will rise to the "president" position in all sectors of the economy," added Benel Se Liban, FWN vice president for the FWN Ambassadors. "The summit is where smart women share challenges and secrets to their success. The 2007-2022 awardees' leadership stories have become part of the largest recorded Filipina women diaspora in modern times."
'Being Filipina' is the theme of #FWNSummit 2022. Seeing all the awardees on stage at the awards ceremony assures me that the future of our young Filipina sisters is solid," said Teresita Batayola, President and CEO of International Community Health Services. "Awardees share this inspiring evening with their moms, grandmothers, daughters, sons, spouses, partners, young women and men, co-workers, mentors, and bosses from their extended families and organizations. They all come on stage to celebrate her, and it is a glorious sight to see."
"I am excited to meet my fellow awardees from other countries and learn more about their lives and the partnerships and collaborations we can create," says Culiat. "I am grateful to FWN for bringing these incredible Filipina women of the world together to plan the future for our community and next generation of leaders."
About NellOne Therapeutics, Inc.
NellOne is pioneering advances in regenerative medicine to restore injured tissue to its normal functional state. NellOne is dedicated to harnessing the power of the NELL1 / NV1 protein to improve outcomes for patients around the world, who suffer from significant soft tissue damage incurred in traumatic injuries or diseases. The NELL1 signaling protein's healing properties are derived from its activity during early mammalian development in the production of an environment (extracellular matrix) that promotes pathways to regulate inflammation, increase cell/tissue survival under adverse conditions, recruit stem cells, and enhance blood vessel formation — thereby supporting new tissue formation and maturation to replace damaged tissues. For more information on NellOne visit nell-one.com.
About Foundation for Filipina Women's Network (FWN)
FWN is the organization for the Most Influential Filipina Women Awardees from 34 countries. They are nominated by their peers and selected annually by the award selection team of awardees from previous years. FWN is committed to leveraging its talent pool of accomplished women by publishing their leadership journeys and encouraging their global footprint through projects that benefit their local communities. FWN seeks to increase the influence of Filipina women as leaders and policymakers on economic, social justice, and women's rights in the private and public sectors. FWN campaigns to increase the odds that more Filipina women advance to the C-suite influential positions in companies worldwide. More at: www.FilipinaWomensNetwork.org
About the Filipina Leadership Global Summit
The Filipina Leadership Global Summit convenes a select group of Filipina women global leaders, influencers, and public figures from the 34 FWN member countries to participate in business meetings, educational sessions, and learning journeys with corporate and community leaders, elected and appointed officials. The Filipina Leadership Global Summit brings together the top and most influential Filipina women business owners and professionals to create a networking pipeline thru reciprocal relationships. The speakers chosen for the summit are at the top of their game sharing their experiences and insights on how they turned their success into significant work and philanthropy and what it means to be an influential woman in the post-pandemic business world. More at www.FilipinaSummit.org
About the Most Influential Filipina Woman Award (Global FWN100™)
The Most Influential Filipina Woman in the World Award™ honors Filipina Women who are changing the face of leadership in their local communities and adopted countries they now call home. The Global FWN100™ award recognizes those who have reached status for outstanding work in their respective professions and industries. More at: www.filipinawomensnetwork.org/fwn100/