A new model and resource for healing social injuries and divisions.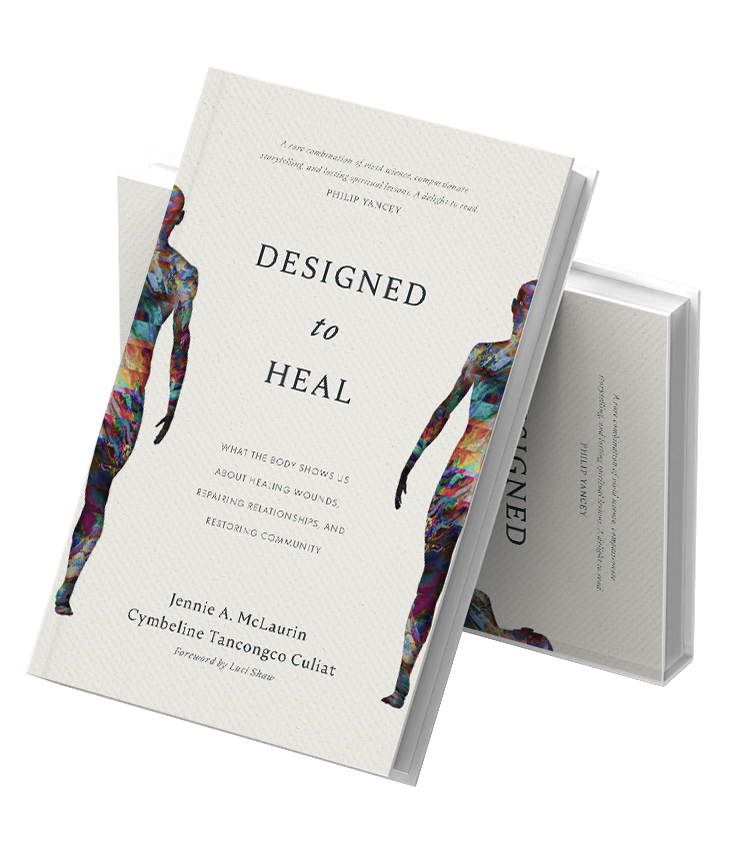 [Knoxville, TN], July 26, 2021 – Dr. Cymbeline T. (Bem) Culiat, Co-Founder and Chief Science Officer for NellOne Therapeutics, Inc. (NellOne), along with pediatrician, and public health expert, Dr. Jennie A. McLaurin, co-authored a groundbreaking book, Designed to Heal. The book offers a fascinating look into the science and medicine of our bodies' wound healing response to injuries. The authors then illustrate how the underlying principles and patterns of the restorative pathways of the physical body offer valuable practical lessons for healing the complex acute and chronic wounds of our social bodies – families, communities, faith and work groups. The nature of aberrant wound healing environments was also used as powerful images and tools for constructing a framework for resolving personal and communal situations that are stuck in stages of woundedness, worsen, and spread to healthy tissues, threatening the existence or flourishing of individuals and organizations.
Drs. Culiat and McLaurin first met in Knoxville when a mutual friend, Dr. Kenny Woodhull, invited Dr. Culiat to attend a workshop where Dr. McLaurin led a two-day Continuing Medical Education workshop on bioethics. The session that resonated with Dr. Culiat was on the intersection of faith, science. and healing. Engaging conversations between Jennie and Bem during the training led to discoveries of shared experiences, convictions and purpose – and sparked a lifelong friendship across the US coasts.
Dr. McLaurin, then the Dean of Students at Regent College (Vancouver, Canada), was awarded a grant from the Sir John Templeton Foundation to train and provide long-term novel resources for pastors in North America to cultivate understanding and appreciation how science can be supportive of faith and how to minister to scientists in their congregations. Dr. Culiat taught in two summer sessions (20110-2011) and showed how her research into the cutting-edge science of wound healing and tissue regeneration inspires wonder and awe, nurtures and strengthens her Christian faith.
Many years later a milestone birthday celebration for Dr. McLaurin in Washington State, brought together an incredible group of women who had impacted her life over the years, including the famous well-respected poet, Luci Shaw. Dr. Culiat led a devotional to the group expanding on her previous lectures at Regent College. Luci championed the idea of a book and offered her assistance and mentorship. Three years later, Jennie and Bem completed their debut book amidst demanding careers, family lives, church, and community commitments, and without ever being in the same physical space.
Designed to Heal offers inspiration for readers to be intentional about supporting the body's natural healing process but also offers a story of empowerment. The ripple effect from lessons learned in Designed to Heal reach far beyond physical healing but offer strategies to intentionally work towards regeneration in all situations of conflict. Chapter 7, strategically at the heart of the book, tells the story of Dr, Culiat's discovery of the NELL1 protein and its pivotal role in promoting the secretion of an extracellular matrix (ECM) that promotes tissue formation and maturation." The authors used this as a powerful illustration of the central and indispensable role of communities for cultivating and sustaining environments that promote healing and human flourishing.
As Dr. Culiat reflects on Designed to Heal: "Embedded in this journey are compelling substories like: a) science' impact beyond initial intended applications to present novel integrated tools and models for other fields of human interests (a feature of great science), b) women empowering each other to create and achieve challenging endeavor, c) entrepreneurship and the publishing business. Co-authoring this book is the most creative learning experience of my career. I expect more surprises as the book is read and applied all over the world."
Note: Designed to Heal is published by Tyndale Momentum and will be released on August 3, 2021. It is available in hardcover and digital copies (e.g. Kindle) at Amazon, Barnes and Noble, Tyndale, Book Depository and other booksellers.
About the Authors
Dr. Jennie A. McLaurin is a writer, pediatrician, and educator with degrees in medicine, public health, and theology. A national expert in community health programs, she has been involved in caring for those in migrant communities, inner cities, indigenous Hawaiian clinics, homeless settings, centers for at-risk adolescents, and clinics for children with special needs. Jennie loves getting to know people from diverse backgrounds, celebrating the image of God she finds in the variety of portrayals. Her writing reflects understandings gleaned from the intersections of science, faith, medicine, and culture. Jennie and her husband, Andrew, live in the Pacific Northwest and are parents to five adult children.
Dr. Cymbeline T. (Bem) Culiat is a scientist, teacher, and entrepreneur. Bem earned degrees in cell biology and genetics from the University of the Philippines at Los Baños and received a doctorate in biomedical sciences from the Oak Ridge National Laboratory–University of Tennessee. Her postdoctoral work involved identifying the functions of genes sequenced in the Human Genome Project, where she discovered the role of a novel signaling protein in tissue formation during early development and in the healing of tissues after severe injuries or disease. Bem has taught at the university level and co founded two biotechnology start-up companies. She has a passion for bringing the world of science to people of faith. Dr. Culiat lives with her husband, Julio, and their son, Caleb, in Oak Ridge, Tennessee.
About NellOne Therapeutics, Inc.: NellOne is pioneering advances in regenerative medicine to restore injured tissue to its normal functional state. NellOne is dedicated to harnessing the power of the NELL1 / NV1 protein to improve outcomes for patients around the world, who suffer from significant soft tissue damage incurred in traumatic injuries or diseases. The NELL1 signaling protein's healing properties are derived from its activity during early mammalian development in the production of an environment (extracellular matrix) that promotes pathways to regulate inflammation, increase cell/tissue survival under adverse conditions, recruit stem cells, and enhance blood vessel formation — thereby supporting new tissue formation and maturation to replace damaged tissues. For more information on NellOne visit nell-one.com.