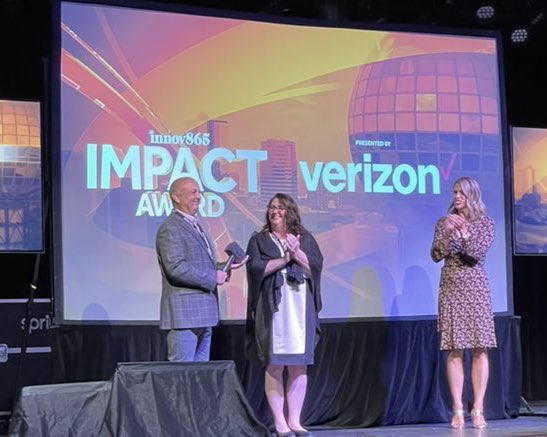 [Knoxville, TN] October 2021- Bill Malkes, Chief Executive Officer of NellOne Therapeutics, is the recipient of the 2021 Innov865 Impact Award. The Innov865 Impact Award, presented by Verizon, celebrates innovation and entrepreneurship in the community by recognizing a Knoxville entrepreneur who has made the greatest impact in their industry and community.
"There were so many things to celebrate at Innov865's 2021 Startup Day," says Malkes. "Congratulations to CQInsights Inc. and Uncat on their successful pitches. All glory and thanks to God for planting me in Knoxville and providing opportunities for me to serve in so many ways. I appreciate the collective support for entrepreneurs like myself in this community – the best is yet to come!"
To learn more about other pitch competitors at Startup Day, check out this recap.
To learn more about Innov865 Week events visit their website.
About Innov865 & The Innov865 Alliance
Innov865 Week is a weeklong celebration of Knoxville's entrepreneurial spirit that brings together startups, entrepreneurs, makers, investors, business leaders, students, and community leaders from across East Tennessee for a week of educational panels, pitch competitions, investor roundtables, and social events. It is presented by the Innov865 Alliance, a coalition that develops, supports, and promotes the region's entrepreneurial ecosystem. Founding members of the Innov865 Alliance include the University of Tennessee Research Foundation, Oak Ridge National Laboratory, PYA, UT's Anderson Center for Entrepreneurship and Innovation, Three Roots Capital, Tennessee Valley Authority, Launch Tennessee, Knoxville Chamber, Knoxville Entrepreneur Center, UT Research Park at Cherokee Farm, the City of Knoxville and Bunker Labs Knoxville. To learn more, visit innov865.com.
About NellOne Therapeutics, Inc.
NellOne is pioneering advances in regenerative medicine to restore injured tissue to its normal functional state. NellOne is dedicated to harnessing the power of the NELL1 / NV1 protein to improve outcomes for patients around the world, who suffer from significant soft tissue damage incurred in traumatic injuries or diseases. The NELL1 signaling protein's healing properties are derived from its activity during early mammalian development in the production of an environment (extracellular matrix) that promotes pathways to regulate inflammation, increase cell/tissue survival under adverse conditions, recruit stem cells, and enhance blood vessel formation — thereby supporting new tissue formation and maturation to replace damaged tissues. For more information on NellOne visit nell-one.com.