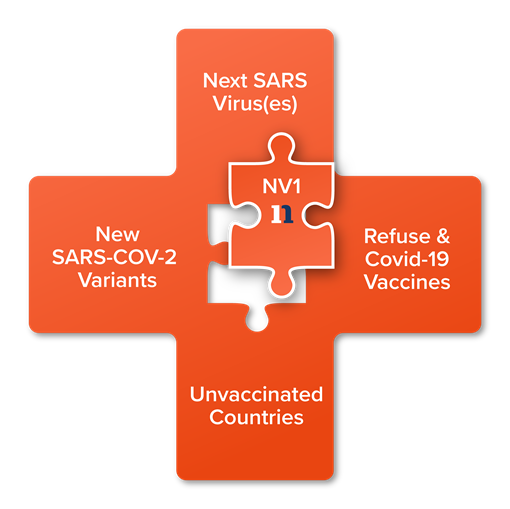 [Knoxville, TN], August 9, 2021 – 490 BioTech and NellOne Therapeutics, Inc., two leaders in Tennessee's thriving entrepreneurial community and members of its growing biotechnology cluster, announced today they are expanding their partnership to fight against acute respiratory distress syndrome (ARDS). ARDS is the leading killer of COVID-19 infected patients. 490 BioTech provides cutting edge research tools for drug discovery using their patented autobioluminescence technology. NellOne Therapeutics, Inc. commercializes first-in-class regenerative therapeutics based on their proprietary NV1 protein.
ARDS has claimed the lives of more than 450,000 COVID-19 patients and is without an approved pharmacological standard of care. ARDS survivors average a median 25-day intensive care stay at over $22,0000 per day and 22% to 24% suffer from post-traumatic stress syndrome. With COVID-19 being only one of many ARDS triggers, it is a global threat to human health.
Following a successful study with the Uniformed Services University of Health Sciences, NellOne has obtained funding from the National Science Foundation to evaluate the ability of their candidate recombinant therapeutic to prevent and reverse lung damage caused by hypoxia and severe inflammation resulting from ARDS. 490 BioTech will partner in this bid to mitigate suffering by developing and optimizing robust, cost-effective, and rapid tests for critical applications in this process. It is a partnership made in Knoxville to serve the world.
Both companies share in the collaborative atmosphere of Tennessee's Fairview Technology Center Accelerator. 490 BioTech Founder and CSO Dr. Dan Close said "Recognizing that ARDS is an unmet clinical need with increasingly high mortality rates that has been dramatically
exacerbated by the COVID-19 pandemic, we are honored to partner with NellOne in this life-saving endeavor".
NellOne Founder and CSO Dr. Cymbeline Culiat added "The mortality rate can be up to 75% for COVID-19 induced ARDS. NV1 can be a significant weapon to reduce this rate. The ability to accelerate NV1's development and post approval quality control through novel assays from 490 BioTech is profound.
For more information, please contact:
Bill Malkes, NellOne, +1 865 300-7161
Dr. Dan Close, 490 BioTech, +1 865 536 1490